2023 Mitsubishi Mirage For Sale in Truro, NS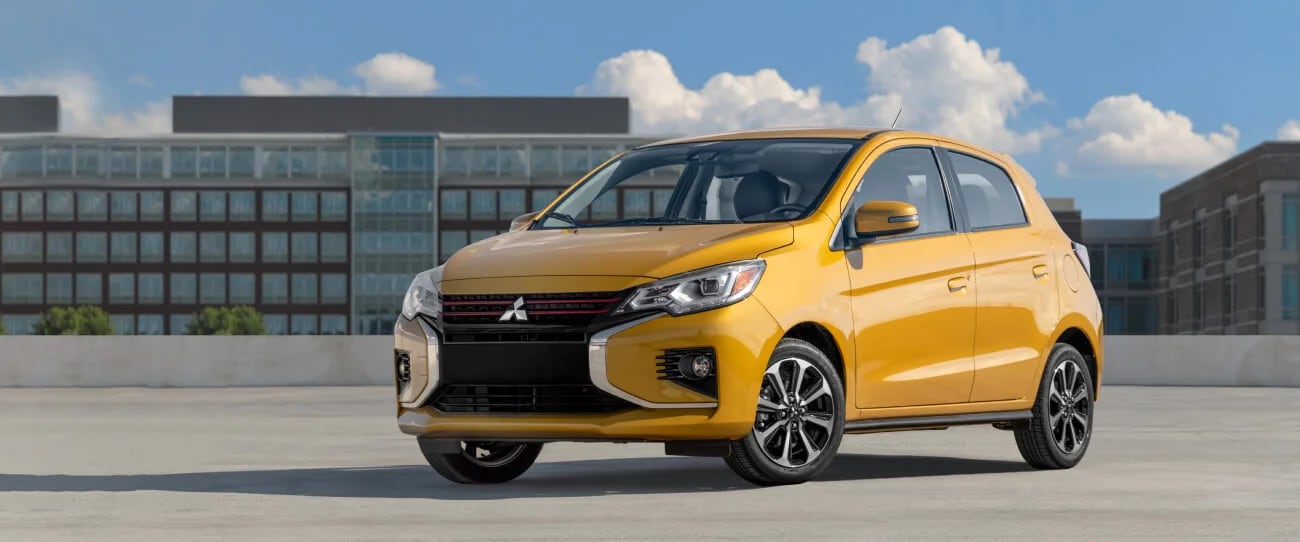 2023 Mitsubishi Mirage For Sale in Truro, NS
The Mitsubishi Mirage has long been a favourite among budget-conscious shoppers. And for a good reason-it's affordable, efficient, and reliable. But don't let its affordable price tag fool you. Mitsubishi has always been a company that pushes the envelope regarding automotive design. With the release of the 2023 Mitsubishi Mirage, they are solidifying their position as a compact car market leader. From its sleek exterior styling to its impressive performance capabilities, the 2023 Mitsubishi Mirage is sure to impress. Here's a closer look at what you can expect from this first-class hatchback available in our new inventory.
2023 Mitsubishi Mirage Performance and Capability
The 2023 Mitsubishi Mirage boasts impressive performance capabilities. The Mitsubishi Mirage is powered by a 1.2-litre three-cylinder engine that produces 78 horsepower and 74 lb-ft of torque. This powertrain will be paired with a continuously variable transmission (CVT), and front-wheel drive will be standard, a change from the 5-speed automatic transmission in the previous models. A 5-speed manual transmission is available for the ES trim.
It also gets excellent fuel economy, averaging 6.6 L/100 km, one of the highest for a vehicle in its class. You get more bang for your buck on the highway, or when combined with the CVT, the Mirage consumes as low as 5.6 L/100 km and 6.2 L/100 km, respectively. Whether commuting to work or taking a cross-country road trip, you'll appreciate the fuel-efficient 2023 Mitsubishi Mirage.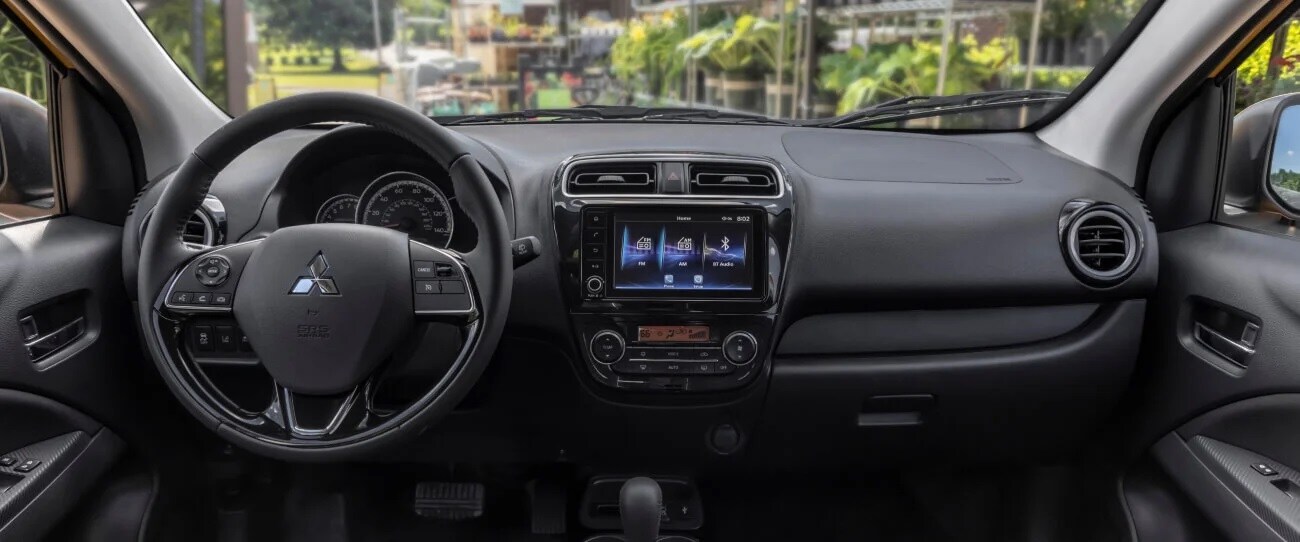 2023 Mitsubishi Mirage Exterior
On the outside, the 2023 Mirage gets a refreshed look. The exterior is crafted with sleek and refined materials to ensure a perfect balance of style and performance. It is fitted with impressive halogen headlights and LED taillights to maximize visibility at night. The front fascia features a machined mesh grille detailed with streamlined accents, while the stylish headlamps add a unique touch that helps create a more eye-catching look.
To further elevate its aerodynamic profile, the roofline tapers subtly towards the rear, giving the Mirage an elegant silhouette. The vehicle sits on stunning 14-inch aluminum alloy wheels. Overall, the 2023 Mitsubishi Mirage provides an impressive combination of aesthetics and quality, making it one of the most sought-after vehicles in its class.
2023 Mirage Interior and Technology
The 2023 Mitsubishi Mirage is the perfect car for on-the-go lifestyles. Its interior is intuitively designed to maximize comfort and convenience. Inside, the model offers spacious and comfortable seating for up to five passengers. The cabin is well-equipped with a variety of modern features and technologies. It has a 6-way adjustable driver's seat and a 4-way adjustable passenger's seat for optimal positioning, while the heated front seats provide extra comfort.
The 7-inch touchscreen infotainment system delivers easy audio, navigation, and climate control access, with Apple CarPlay and Android Auto compatibility. Furthermore, the armrest and shift knob add a luxurious touch to this vehicle. With keyless entry and a push-button start, the 2023 Mitsubishi Mirage offers you the ultimate convenience.
2023 Mitsubishi Mirage Trims in Truro, NS
The 2023 Mitsubishi Mirage hatchback is now available among our new inventory, and with it comes an attractive trim lineup with three compelling models for you to choose from. Whether you're based in Truro, Colchester County, NS, or beyond, find out what the 2023 Mirage lineup has to offer below before visiting Truro Mitsubishi to make this new hatchback yours.
ES
The new Mirage's standard ES trim gets a thrifty 1.2L engine that you can pair with a manual or continuously variable transmission. Whatever your preferred configuration, the 2023 Mirage ES nets a combined fuel economy of well under 7.0 L/100km, while its turning radius and compact dimensions make it ideal for navigating narrow streets and parking in tight spaces. This Mitsubishi hatchback also boasts excellent cargo capacity for its segment, with fabric seats and automatic climate control leading its creature comforts.
SE
The 2023 Mirage SE rests on sleek 14-inch alloy wheels and pairs the continuously variable transmission with its fuel-efficient 1.2L engine. Welcome lights and an integrated driver's seat armrest combine for a welcoming, comfortable cabin experience, while cruise control comes with steering wheel-mounted controls, so you can personalize your new Mirage SE's drive with minimal effort while keeping your eyes on the road ahead.
GT
This new Mitsubishi Mirage trim gets a bump to 15-inch alloy wheels and boasts automatic LED lighting for adaptable visibility. The 2023 Mirage GT also gets heated power-adjustable side mirrors, so you can adjust and preserve your visibility under any conditions, with this Mitsubishi hatchback also boasting some valuable additions to its safety suite. Indeed, the GT trim includes a Lane Departure Warning to help you remain in ideal position, and Forward Collision Mitigation to minimize the potential impact of frontal collisions.
Contact us at Truro Mitsubishi today for more on any of the 2023 Mirage trims or to reserve your test drive at your convenience.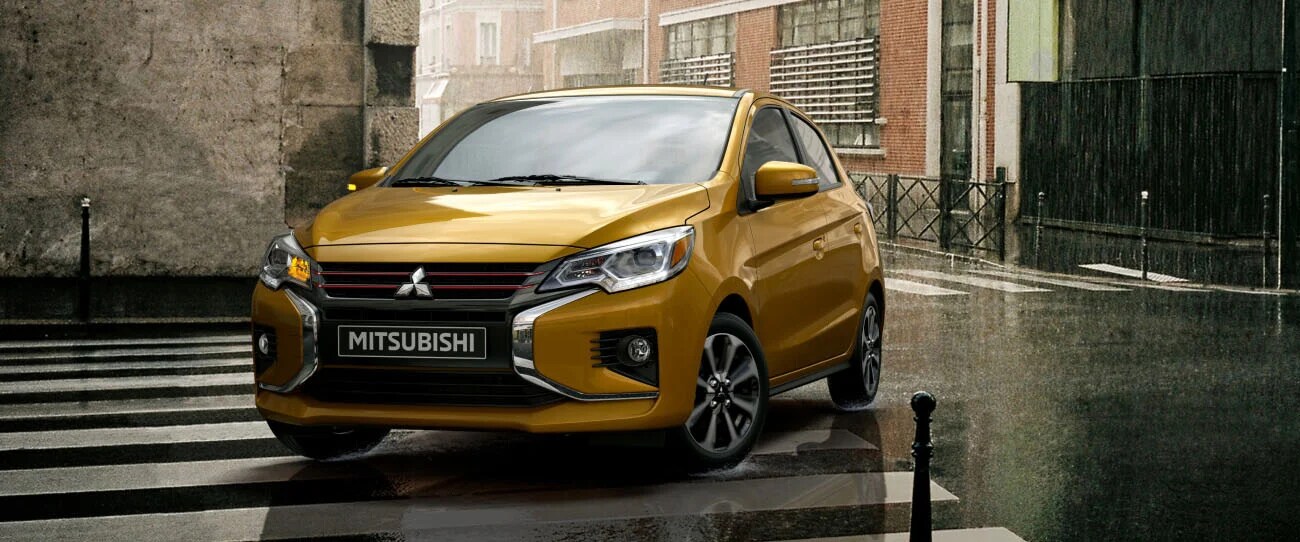 Mitsubishi Mirage Safety
The Mirage also boasts an impressive list of safety and driver assistance technology. The Mirage's seven-airbag safety engineering delivers a stronger sense of safety for the driver and passengers. To further the safety of the occupants, the vehicle is fitted with the Reinforced Impact Safety Evolution System to absorb energy in case the car is involved in a collision. Also, the Mirage's Active Stability Control helps prevent skidding and maintains stability. Finally, its rearview camera system gives the driver adequate visibility when reversing.
Purchase the 2023 Mitsubishi Mirage with Us!
The 2023 Mitsubishi Mirage is an excellent choice for budget-conscious shoppers who don't want to sacrifice style or comfort. With its spacious interior, long list of standard features, and impressive fuel economy, the 2023 Mitsubishi Mirage has everything you need. If you're interested in learning more about the model, contact Truro Mitsubishi in Truro, Nova Scotia. Our friendly and knowledgeable staff would be happy to answer any of your questions and help you schedule a test drive. Contact us today, and let us facilitate you get behind the wheel of this fantastic vehicle.
Make an Inquiry
* Indicates a required field