2022 Mitsubishi Eclipse Cross For Sale in Truro, Nova Scotia
2022 Mitsubishi Eclipse Cross For Sale in Truro, Nova Scotia
Truro Mitsubishi, located in Truro, Novia Scotia, is the premier Mitsubishi dealer in Truro, Nova Scotia. With a wide range of Mitsubishi fleet, including the new Mitsubishi Outlander, Mitsubishi Eclipse Cross, Mitsubishi Mirage G4 and many other new and used models, making it one of the most reliable dealers when it comes to Mitsubishi. We also serve our neighbouring counties, including Hants County, Colchester County, Pictou County and Cumberland County. Our staff of experts will be there for you through the entire purchasing and ownership process. Our dealership has various services to ensure that you will get the most value out of your Mitsubishi vehicle.
The Mitsubishi Eclipse Cross Overview
Launched in early 2021, the Mitsubishi Eclipse 2022 is one of the most efficient and reliable motor vehicles of the year. After skipping the 2021 Mitsubishi Eclipse Cross to signal their commitment to advancing and progressing car development, Mitsubishi came up with a 2022 Mitsubishi Eclipse Cross. This car is a modified model of its earlier predecessors, with improved features and some newly added ones.
The Exterior Redesign
The vehicle's exterior changes are notable as they have improved the car's aesthetics. The noticeable primary difference in this year's model is its upgraded exterior design. The headlights, grille, and bumper have all been adjusted to be a bit extra subdued, soft and lighter at the front-end section. The headlights have been pushed lower, closer to the front bumper, and the fog lights also underwent the same transition. The slim lights at the upper part now serve as daytime lights, which made the car adopt a sportier styling. The headlights have been made narrower to give it a futuristic look. The trunk and the taillights also have been improved to match the rest of Eclipse's upgrades.
Technology and Connectivity Features
Mitsubishi Connect is a group of technology services designed to make these Mitsubishi cars' driving experience safer, enjoyable, and at the convenience of the driver. They usually come in a single app. In this 2022 model, these modified/added features are:
The myQ feature allows the driver to open and close the garage door without exiting the car.
What3words a new feature that enables the driver to access maps when offline.
A more conspicuous full-colour head-up display with contrast adjustment features for easy viewing of the notification alerts.
Automatic climate control software that allows temperature controls inside the car.
Fast Key entry system for easy locking and unlocking door handles.
Rear cross-traffic alert that gives notification of oncoming traffic.
Adaptive cruise control feature for maintaining a safe distance with the vehicle ahead.
Automatic rain-sensing wipers.
Make an Inquiry
* Indicates a required field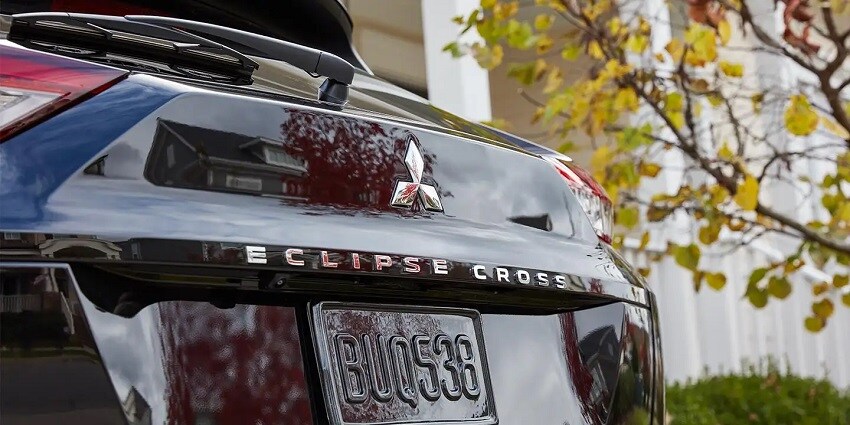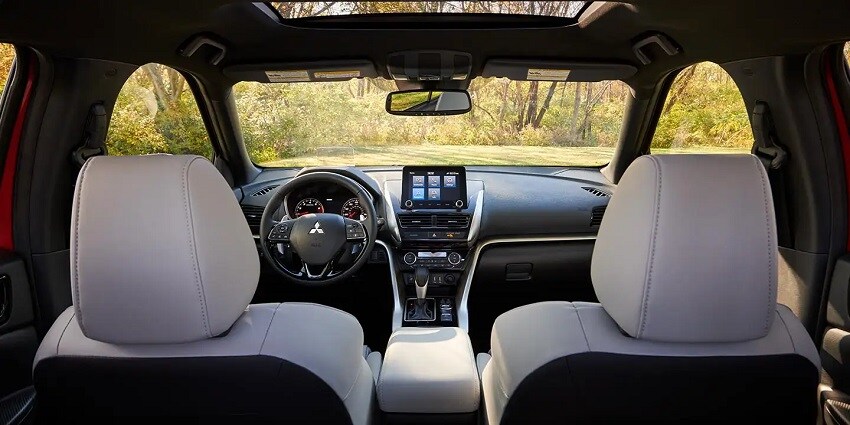 Trims Available
Almost all the trims in this 2022 model get the new inventory features. These include the heated driver and front passenger seats, which are standardized in LE, SE, and SEL trims. A heated steering wheel is standard on the SEL trim. The heated rear seats are added to the SEL touring model.

The 2022 Eclipse Cross is now available with light grey leather covering with a darker emphasis on the SEL trim, with an added powered passenger seat. The usual 8-inch screen is available in all other trims, except the ES trim, which has manual keys for volume control and carrying out fine-tuning roles. All models now have a Forward-collision Mitigation System with Pedestrian Detection and Lane-departure Warning. Blindspot Warning, Lane-change Assist and Rear Cross-traffic Alert are standard on SE and above models.
Financing Options
Every customer is welcomed to Contact Us for more information on our new and used Mitsubishi offerings or set up a test drive. You can browse our entire new inventory online for a more convenient searching experience. We invite you to use our Finance Centre to fill out a financing application for pre-approval. Our team will be there for you to ensure that you are matched with the perfect Mitsubishi vehicle that suits your every need. Since its establishment, our dealership has continued to soar the heights in Mitsubishi car dealerships.
Make an Inquiry
* Indicates a required field