2022 Mitsubishi Eclipse Cross vs 2022 Kia Sportage
2022 Mitsubishi Eclipse Cross vs 2022 Kia Sportage
The 2022 automotive season is being touted as a big one, with many new releases and upgraded vehicles. We've got two exciting new rivalling models: the 2022 Mitsubishi Eclipse Cross and the 2022 Kia Sportage. And today, we'll be comparing and reviewing these new vehicles to help you choose one that satisfies your priorities and needs.
Eclipse Cross vs Sportage Overview Comparison
The major difference between these two machines is their fuel efficiency. The Eclipse Cross's fuel economy ratings tend to be more attractive, as it provides excellent mileage for a city drive. As for Kia Sportage, it's the opposite, but they offer similar combined fuel efficiency scores.
When it comes to power, the 2022 Sportage outshines the 2022 Eclipse Cross, though the difference isn't that big. The Mitsubishi Eclipse provides a fun, solid and reliable driving experience even with this minor minus point.
Besides, the new Mitsubishi inventory is available in both FWD and AWD models with multiple engine options such as petrol or diesel. The Kia Sportage also comes with an FWD model, but it only has one engine option: a 1.6-litre DOHC GDI I4 Engine paired to an 8-speed automatic transmission.
Furthermore, the Mitsubishi Eclipse also achieves higher maximum towing capacity and payload compared to the Kia Sportage.
2022 Mitsubishi Eclipse Cross Interior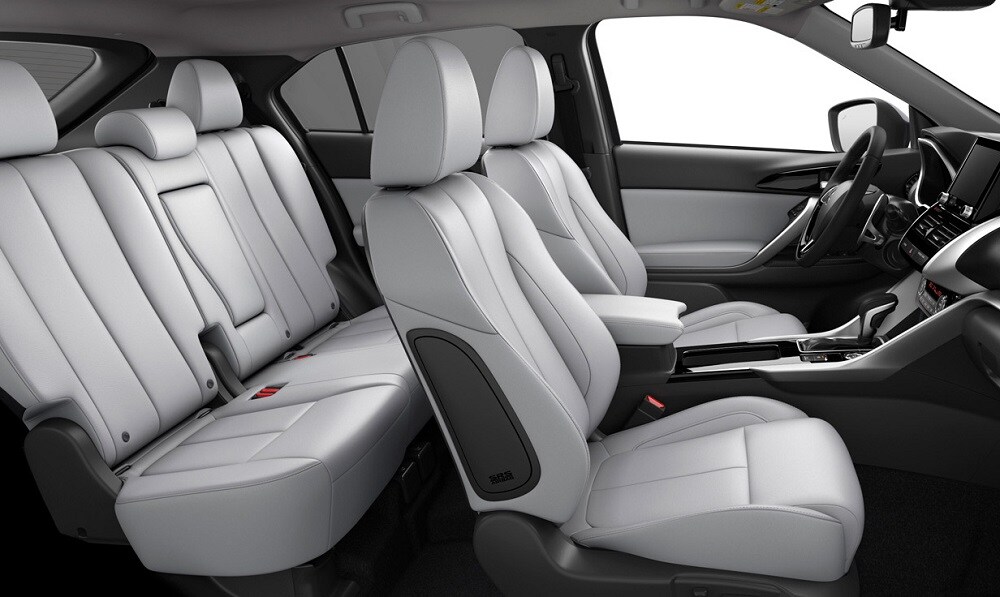 2022 Mitsubishi Eclipse Cross Exterior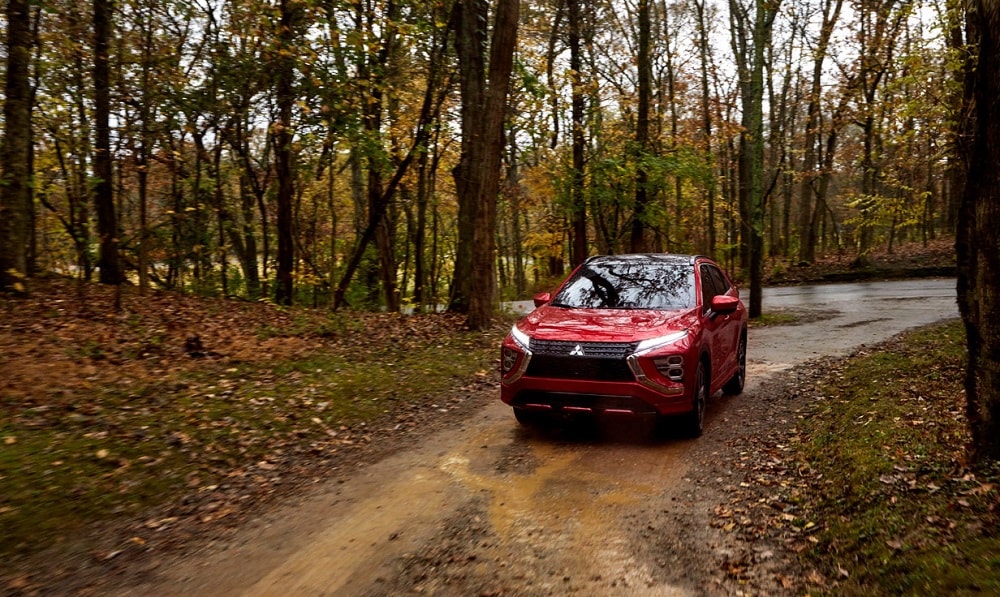 Mitsubishi Eclipse Trim Levels
2022 Mitsubishi Eclipse Cross shows off its flair with four different trims.
The ES S-AWC trim keeps its price low by providing modest features in the about visually identical model than the others. Next in line is the SE S-AWC trim, which adds several modern safety and creature comfort features without its price skyrocketing.
On top-spec trims, you'll find the SEL S-AWC with enhanced safety and convenience, making it an attractive set-up. And finally, the GT S-AWC wins the top spot with a heavy dose of first-class luxury features. Feel free to reach out to our Finance Centre to help fund your new vehicle.
Interior Comfort, Seating and Safety
The Outlander Cross newly announced updates include an 8.0-inch infotainment display, two USB ports on the base trim level, a new lighter and smaller key fob, as well as paddle shifters added to the GT-S trim model.
Both vehicles also share similar specifications: 2-row five seating layout for passenger creature comfort and several airbags and active safety equipment meet safety features. Despite being a compact crossover SUV, the Mitsubishi Eclipse Cross has quite a decent interior space for its class. Back seats can fold down, and in some models, passengers will be able to recline the backrest while still seated fully.
Engine Performance
Eclipse Cross features a 2.4-litre Multi-Air Turbo engine with Direct Injection technology that generates up to 200 horsepower from 6000rpm. The turbocharger provides maximum torque of 280 Nm at an affordable rpm range between 1800 and 5200rpm.
On the other hand, the Sportage's engine is a bit more potent than the Mitsubishi Eclipse as it produces up to 240 horsepower. It is due to its turbocharged four-cylinder petrol mill, whereas Eclipse Cross features a turbocharged 2.4-litre I4 engine which powers all models, including GT-S and GT trims. Mitsubishi Cross, however, gets its power from a 2.4 litre 4-cylinder turbo diesel engine that produces 190 horsepower and 350 Nm of torque.
Conclusion
The new inventory of 2022 promises remarkable all refreshed and upgraded vehicles, with the Mitsubishi Eclipse Cross and Sportage topping the list.
They boast incredible features and excellent performance on the road. When you feel like you've made your mind on which vehicle to buy, contact us, and we'll get your car.
2022 Mitsubishi Eclipse Cross Inventory
The Mitsubishi name and all trademarks are managed by Mitsubishi Auto Canada